Banner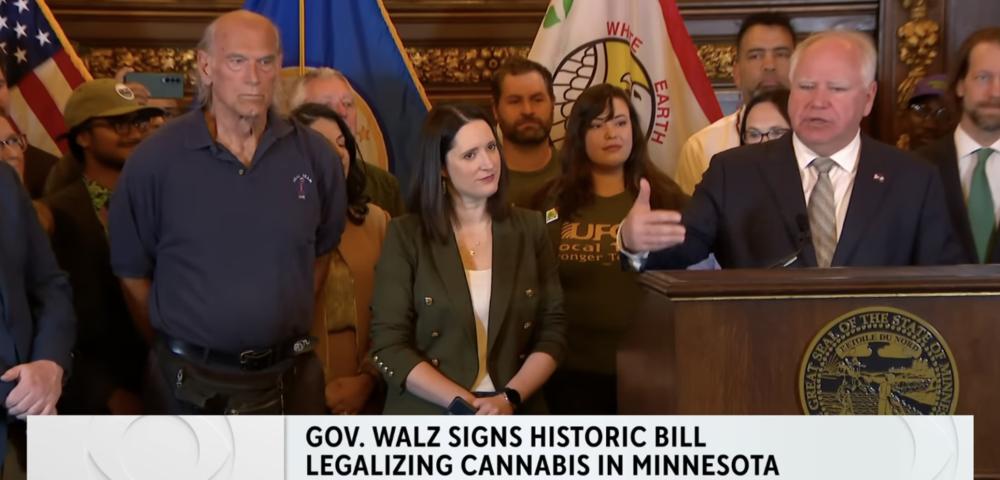 Title
UFCW 1189 Helps Usher in New Era for Cannabis in Minnesota
Body
On May 30, 2023 Minnesota Governor Tim Walz signed a bill making Minnesota the 23rd state in the country that allows for the possession, sale and consumption of adult recreational cannabis.  United Food and Commercial Workers (UFCW) Local 1189 was present for the historic signing of the legislation.  UFCW 1189 has made legalization of adult recreational cannabis use a major priority over the last decade with the goals of creating a sustainable industry with good-paying and safe jobs.  UFCW 1189, which is currently Minnesota's only cannabis Union, lobbied to make the bill as worker-friendly as possible in order to sustain the high quality of jobs that medical cannabis workers in Minnesota currently enjoy.   
UFCW Local 1189 member Nate Noel, who works for Vireo Health, was present for the signing of the adult use bill and has been active in supporting adult recreational use for nearly a decade.  Nate stated that "it is amazing to see that all of these hard-working organizations were able to get this done and that Governor Tim Walz has followed through on the promises he has made to Minnesotans during his campaigns."  
UFCW Local 1189 Organizing Director Claire Van den Berghe has deep roots in the cannabis industry and was also present for the signing.  She feels that this is an important opportunity to make sure cannabis jobs can benefit working Minnesotans. "What we want is a race to the top -- for jobs in cannabis to be well-compensated and provide security for workers." 
President Jim Gleb of UFCW Local 1189 was thrilled that Minnesota's cannabis bill goes the extra mile to protect the local Union's current membership in medical cannabis, as well as future cannabis workers.  He said that "not only are our current members more protected, but others will now have the same opportunities for good wages, good benefits and a voice in their workplace with a strong Union contract."
UFCW Local 1189 represents nearly 10,000 members in Minnesota and Western Wisconsin and, as the only Union in the State of Minnesota with contracts in the cannabis industry,  represents almost all medical cannabis workers in the state.  Vireo Health has been Union since the inception of the medical cannabis program and workers at Green Thumb Industries (dba Rise Cannabis) joined UFCW at the beginning of 2023.  UFCW Local 1189 is looking forward to engaging with new cannabis workers and helping them to create good jobs and a strong industry.  
Cannabis workers looking to start a Union, or business owners and employers looking to abide by 2023 Legislative Session Chapter 63 Article 1, Section 14, or Minnesota Statutes Chapter 342.14, Subdivision 1 regarding "Labor Peace" can contact Claire Van den Berghe.